Discover the interview of Nelly TETARD, Director of Information Systems.
 What are the missions of the Information Systems Department (ISD) of Colas France Metropole?  

 
The ISD France Metropole is a structure dedicated to Colas employees based in France.   
Its main missions are : 
Management of the Colas Digital Solutions (CDS) service offering to Colas subsidiaries and advice to Colas users and specialties.

 

Managing and carrying out the work requested by the subsidiaries, in anticipation of physical and IT changes at Colas sites.

 

Local IT services of all kinds

 

Assistance in the management of the IT equipment used in subsidiaries

 

Support for the digital transformation of Colas' businesses

 
How does the IT Department in France contribute to the Digital Transformation of Colas?

 
The IT Department supports and facilitates the Digital Transformation of Colas' businesses. Its teams are the transmission belts between CDS and the business lines…in both directions!  
Its actions focus on several areas:  
Advice and renovation of IT equipment deployed on sites (computer racks, servers and UPS, network equipment, wifi, telephony, PCs and tablets) in order to comply with the requirements of new digital solutions

 

Relaying the news and IT security rules during our field visits

 

Answering questions collected during site visits and meetings with Colas employees

 

Reporting on needs to be covered by Colas DS or processes that could be digitized

 
Since February 2021, we support our support by leading national "Digital Sessions" on office automation solutions used on a daily basis and the reminder of good security practices. These one-hour sessions, conducted remotely by Teams, are highly interactive, with facilitators presenting practical cases and answering questions from around 50 users registered on a schedule published each month.  
I have other ideas for supporting our users and we will see if the future allows us to implement them. 
What's the latest thing you'd like to tell us about?

 
As part of the Sessions Digitales, we tried out a coaching session on a business tool called Planeo (the tool for creating, planning and tracking online asphalt delivery calls for third-party customers and COLAS works managers). By moving away from office automation, we have reached a more operational population. 
Our first trial run focused on the population of works managers in the west territory. 11 sessions were attended by 77 participants. The end-of-session survey is very promising (74% response rate)  
Note on the conduct of the session (duration, mode of animation, ….): 4.58/5  
Note on the content presented: 4.49/5 
Participants greatly appreciated this format via Teams and would like to extend these sessions to other business tools. 
What other types of projects does ISD manage?

 
We participate in all site redevelopments, installation of a site base, opening or closing of a site. We are as close as possible to the life of the users and their working environment. 
We also support the replacement of business solutions. More and more frequently, we advise our clients on the actions to be taken in an IT project, the automation of a site or a process. In some territories, we have built a solid partnership, based on trust and the competence of each. 
We also have projects to transform our internal processes and organization. For example, the optimization of Fleet Management was undertaken this year: automation of low value-added acts, digitalization of exchanges with suppliers, simplification of our operational processes and organization. We are gradually freeing up time to focus on irritants subjects and improving customer service. 
What is the most significant change in the ISD's missions?

 
 When the ISD was created in January 2019, our activities were focused on technical infrastructure (network, PCs, phones, IT equipment on sites, …), managing incidents and user pain…and finding abandoned PCs in cabinets. 
During our site visits, our meetings with our internal customers, and the resolution of irritating issues, user satisfaction quickly rose to a very acceptable level (over 90%), and we were able to provide more advice and anticipation on the IT transformations to be made. 
This year, we are exploring a new skill that I hope will broaden our service offering to our customers and further enrich the activities of my teams: process digitization.  
For several months now, Colas Digital Solutions has been providing an ecosystem that enables us to rapidly develop solutions that add great value to repetitive Excel data entry and/or consolidation activities.  
We are part of this trend and are experimenting with this "Powerapps" platform by creating our own tools for the day-to-day activities of our customers. This exploits new skills in the team, familiarizes us with these technologies, in order to better support our customers in the creation of their applications. 
Can you give us some examples of applications developed?

 
We have developed the "MyForfait" application to facilitate the choice of telephone package according to the country of destination in the event of travel and the uses of the Colas employee.  
Other applications enable us to monitor the stock of IT equipment at headquarters, the IT compliance of sites, the annual compliance budget per territory, the visits carried out and the resulting action plans. These applications are very useful for our daily work and are also used during management meetings with our clients. 
Can you give us 2 figures that represent a challenge ?

 
75 and 96% which reflect the improvement in our users' satisfaction over 3 years.  
From 75% at the beginning of 2019, user satisfaction quickly rose to 80%, just by deploying technicians closer to our businesses. With the help of all CDS players, satisfaction exceeded 90% by the end of 2019 and has stabilized around 96% for the past 1 year. 
Tell us about the project you are most proud of? 
The IT teams generally support the deployment of solutions managed by Colas Digital Solutions, and we are the players in the field managed by a central entity.  
The iPad rollout to site managers was an exception to this rule, where we managed the deployment for and with our customers. The collaboration with the deployment managers (example: COPERNIC relay) was very enriching for our teams. We have learned to work in partnership, each taking advantage of the other's skills and lessons learned. 
What has the health crisis changed for your users/customers and employees?

 
Local activities were severely disrupted during the lockdown period. Meetings with Colas employees were limited exclusively to handling emergencies. We had to invent a concept of "remote proximity": using mostly remote exchanges and traveling only to diagnose and resolve technical problems.   
Then, mid-2020 brought a surge of activity: all the 2020 relocation or refurbishment projects had to be completed in one semester. In 2021, all our clients have progressively moved back into their offices. We find a similar activity to 2019, with preventive visits and workshops close to our users.  
We also see that our users have changed their working habits: fixed PCs are mostly replaced by laptops, flex-office offices are becoming more common in regional headquarters, and remote working solutions are better understood. Pulse and Teams have gained in popularity! 
What are the attractive features of Colas Digital Solutions' IT department?

 
Every day is different: there's never a dull moment in the IT department!   
Our DNA is user service. Every day, we have to be agile and creative to find solutions to problems.   
Our teams are spread throughout France, in the head offices and regional departments. We are the CDS employees closest to the users at Colas.  
Our position allows us to understand the operational constraints of our customers, to bring them to CDS and conversely to understand the constraints of CDS and explain them to our customers. The relationship with our customers is just as important as the one with CDS experts in order to quickly call upon the right intermediaries when the solution is out of our reach. 
You welcome work-study students, can you tell us more?                                                                                                                                                                    
Yes, the various activities of the department offer very interesting missions for the alternating students. We welcome 10 of them located throughout France.
In our profession, the prerequisites are simple: to have a good general knowledge of computer equipment, a state of mind resolutely turned towards customer service and to be organized at work.  
The qualities demonstrated by the tutors are very similar to those required for good customer service: adaptation, patience, listening, teaching and collaboration. The students progress rapidly and appreciate the team spirit that reigns in the team: no misplaced pride, we often ask for help from our colleagues and we instinctively pass on the right tips. 
Thank you Nelly !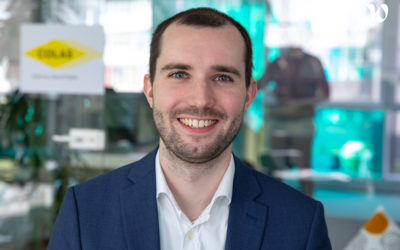 Julien DOUILLARD : cybersecurity governance officer Julien DOUILLARD joined CDS in 2020...
read more